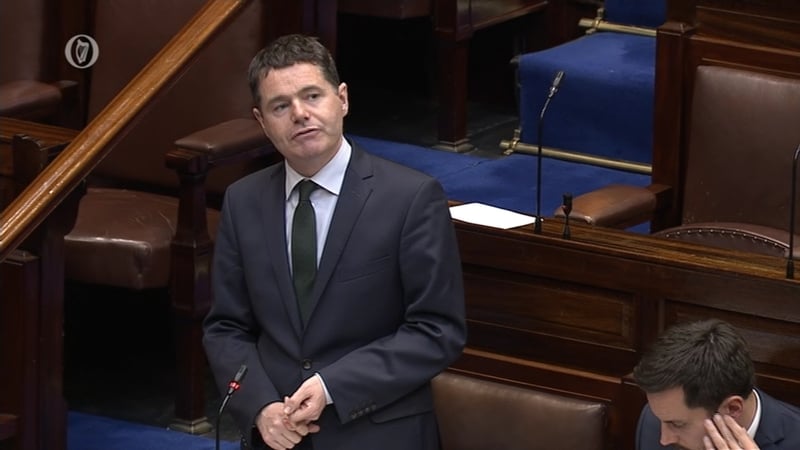 It would cost €209 million a year to give equal pay to public servants recruited since 2011 on lower pay scales, according to the Minister for Public Expenditure and Reform Paschal Donohoe.

In January 2011, during the economic crisis, the then government reduced the pay scales for incoming new recruits by 10%.

As a result, many are now earning significantly less than colleagues recruited prior to that date.

In the Dáil, Sinn Féin spokesperson on Public Expenditure and Reform David Cullinane asked Mr Donohoe how much it would cost to restore all those on a two-tier pay structure to parity with their pre-2011 colleagues.

The Minister said the cost of moving all new entrants recruited since 2011 up two incremental points to put them on an equal basis with their colleagues would be over €209m – excluding any cost for retrospective payments.

He said the calculation was based on a costing for the education sector of €70m, which management used to work out the consequences for other departments.

Mr Donohoe noted that the total cost of pay restoration under the current Lansdowne Road Agreement is €844m over three years, while the total cost of restoring all remaining pay and pension cuts imposed under financial emergency legislation would be €1.4 billion.

He warned that restoration would have to acknowledge competing pressures for investment in public services.

Mr Cullinane said the two-tier payment system was unfair, adding that it was reasonable and fair that what he called the "sore" which had been at the heart of many disputes in hospitals, schools and Garda stations would be put to bed and dealt with once and for all.

Mr Donohoe said the Public Service Pay Commission had not found evidence that reduced pay rates for new entrants represented a barrier to recruitment in the public service in general.

He said that even if it did, the best way the State can increase pay is by the affordable unwinding of FEMPI legislation.

Fianna Fail spokesperson on Public Expenditure and Reform Dara Calleary cited the recruitment and retention difficulties in the nursing profession, and the fact that the HSE is now sending missions to India to recruit nurses.

He said that he was afraid that if the public service did not become an employer of equality, they have a very difficult job selling any new pay agreement.

Asked by Mr Calleary about cuts to public service pensioners during the recession, Mr Donohoe defended the Government's record in restoring the cuts, saying that as of 1 January all pensions below €34,132 would be exempt from the pension levy imposed during the crisis.

When Mr Cullinane advocated eliminating cuts sooner, Mr Donohoe accused him of "hollow rhetoric" – a charge rejected by Mr Cullinane.
---
Harris: State's ability to pay critical to public deal 
Earlier the Minister for Health warned that a critical factor for any future public service pay agreement will be the State's ability to pay while there are competing pressures on the public purse.
Speaking at an IMPACT Health and Welfare Conference in Wexford, Simon Harris noted that public service pay accounts for 31% of total current expenditure.
The health sector in turn accounts for around a third of the State workforce – so increases awarded in any successor deal to the Lansdowne Road Agreement will have significant budgetary impact in that sector.
Mr Harris said it was his firm belief that a good deal can be reached.
However, IMPACT General Secretary Shay Cody, who is also the chief union negotiator, outlined the difficult nature of the negotiations, because of the narrow fiscal space of €200m available for 2018.
He said the gap was very challenging, but not just on the money front, also in regard to the whole array of terms and conditions for public servants.
He said everyone would have to make a judgement as to whether there would be what he called sufficient "substance" to any proposal that would be worth putting to members with any prospect of acceptance.
Mr Cody said IMPACT was absolutely clear that no potential successor to the Lansdowne Road Agreement could ever go forward if it included the current outsourcing proposals.
Sources on the management side acknowledged that there were big differences between both sides, but said they were continuing to work through the agenda.
They said 2018 would be very difficult from the Government's perspective, but added that expectation levels among unions pose a real challenge.
It is now accepted that the talks will miss their original completion target of tomorrow, and will run well into next week at the very least.